| | |
| --- | --- |
| Machine package | Accessories |
Accessories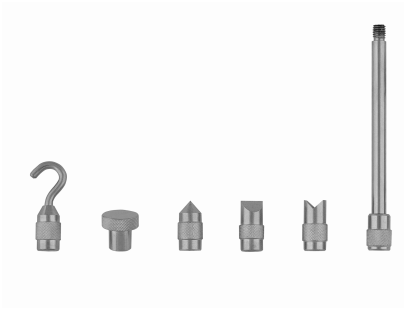 Small hook flat head pointed tip convex tip concave tip extension rod
I-1(A-1) I-2(A-1) I-3(A-1) I-4(A-1) I-5(A-1) I-6(A-1)
Remarks: The I series is made of iron and the A series is made of aluminum. A series is recommended for 50N and below, and I series is recommended for 100N-1000N.
use:
1. Simple measurement of the strength of the tension spring and rubber.
2, the operation of the switch button is measured: phone, computer, remote control.
3. The insertion force and pull-out force of the connector can be tested at the same time.
4. The peak cracking force of new materials such as glass, carbon, ceramics and plastics is captured.
5. Measurement of bending force of thin plates, round bars, wood, etc.
6, peel test: tape, PCB, adhesive tape and other peeling force.
7. Extension test: tensile test of new rubber materials.
8, hardness test: test of cockroach, fruit, lipstick, viscosity.
9, the easy to open cans, cans, etc. when the pull-off peak pull.
10. Tensile strength test: tensile strength and riveting strength test of the terminal.
11, breaking test: wire, copper wire, etc. tensile breaking test.
12, switch contact touch power test: mechanical contact touch test.
Features:
1. Stretching or compressing the instrument The measuring axis can display the measured force value digitally.
2. All models of the instrument can obtain the maximum force value in the measurement.
3. When the battery is overloaded or low, the display screen flashes alarm.
4, display flip only one button to perform the operation.
5. Further improved durability and ease of use.
Technical Parameters:
型号

DS2系列 普及型电子式推拉力计

测定单位

Kgf,N,Lbf或gf,N,ozf切换

精 度

±0.2%F.S或±1digit

测定方法

跟踪/峰值模式切换

显 示

4位元数LCD液晶显示幕装置

模式-超负荷LED液晶显示幕 比较-LED液晶显示幕(可逆的)

取样速度

1000次/每秒

显示更新

10次/每秒

超负荷

容 量

最大负荷为10N 以下型号的: 150%(LCD闪烁约110%)

最大负荷为20N 以上型号的: 200%(LCD闪烁约110%)

测量功能

峰值保持 压力或者拉力 显示翻转 测量值和单位

比较功能

可设定的高/低设置点

电 源

内置NIMH 可充电电池,AC适配器

充电时间

大约6个小时

使用温度

0︿+40摄氏度

重 量

约420g

外部连接开关

显示保持,清零,以及峰值/追踪选择

配 件

6个附件

AC适配器

手提箱
specification:
| | | | |
| --- | --- | --- | --- |
| 型号 | 量程 | 显示值 | 解析度 |
| DS2-2N | 2N(200gf) | 2.000N(200.0gf) | 0.001N(0.1gf) |
| DS2-5N | 5N(500gf) | 5.000N((500.0gf) | 0.001N(0.1gf) |
| DS2-10N | 10N(1kgf) | 10.00N(1.000kgf) | 0.01N(0.001Kgf) |
| DS2-20N | 20N(2kgf) | 20.00N(2.000kgf) | 0.01N(0.001Kgf) |
| DS2-50N | 50N(5kgf) | 50.00N(5.000kgf) | 0.01N(0.001Kgf) |
| DS2-100N | 100N(10kgf) | 100.0N(10.00kgf) | 0.01N(0.001Kgf) |
| DS2-200N | 200N(20kgf) | 200.0N(20.00kgf) | 0.1N(0.01Kgf) |
| DS2-500N | 500N(50kgf) | 500.0N(50.00kgf) | 0.1N(0.01Kgf) |
| DS2-1000N | 1000N(100kgf) | 1000N(100.0kgf) | 1N(0.1kgf) |
Appearance size