Parts: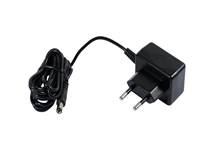 AC Adapter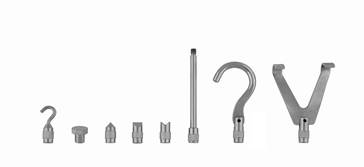 Small hook, flat head, convex mouth, concave tip, extended rod, large hook, Y hook
I-1 I-2 I-3 I-4 I-5 I-6 I-7 I-8
(A-1) (A-2) (A-3) (A-4) (A-5) (A-6)
Note: series I is made of iron, and series A is made of aluminum.50N and below recommended series A, 100n-1000n recommended I.The hook and y-hook are only used for 1000N testing.
USES:
1. Simple determination of tension spring, rubber and other forces.
2. Operation force measurement of switch buttons: telephone, computer and remote control.
3. The insertion and extraction forces of the connector can be tested simultaneously.
4. Grasp the peak cracking force of new materials such as glass, carbon, ceramics and plastics.
5. Bending force measurement of thin plate, round bar, wood, etc.
6. Stripping test: stripping force of adhesive tape, PCB, adhesive tape, etc.
7. Elongation test: tensile test of new rubber materials.
8. Hardness test: test of anchorage, fruit, lipstick and viscosity.
9. Easy to open and pull cans, etc.
10. Tensile strength test: tensile strength and riveting strength test of terminals.
11. Breaking test: tensile breaking test of wire, copper wire, etc.
12. Touch power test of switch contact: touch power test of mechanical contact
Features:
1. Man-machine engineering design.With antiskid rubber handle and strong metal case,
The sensor can withstand 200% overload.The product is reliable and durable.
2. The liquid crystal screen can display measurement data and units upside down.
3. Real-time tracking test and two peak modes are available.
4. Measurement units (K)N, Kgf (gf), Lbf (ozf) are available.
5. Programmable high/low value color LED indicator and output to indicate passing/failing the test.
6. The instrument can store 1000 data.
7. The computer can be connected with RS232C or USB interface.Can process 1000 data per second and generate analysis chart based on statistics.
8. Range overload and battery low voltage indicator.
Technical parameters:
型 号

Z2系列 高性能电子式推拉力计

测量装置

±0.2%F.S或±1digit

显 示

4位数LCD液晶显示屏装置

模式-超负荷LED液晶显示屏 比较-LED液晶显示屏(可逆的)

取样速度

1000次/每秒

显示更新

10次/每秒

超负荷容量

200%全量程(LED闪烁和嗡嗡声超过110%)

A/D转换器

24位信号

微处理器

8位1个尖端微处理器

电池操作时间

全部充电可以连续使用大约16小时

充电时间

大约6个小时

使用温度

0~+40摄氏度

使用湿度范围

20-80%RH相对湿度

电 源

内置 NIMH 可充电电池 AC适配器

输 出

USB接口

Mitutoyo

USB接口

Mitutoyo

模拟电压信号(-2至+2V)

RS232C系列

比较信号(+NG,OK,-NG)打开收集器MAX 30V10mA

超负荷警报信号(OVL)打开收集器MAX 30V10mA

峰值保持

压力或者拉力,压力和拉力

比较功能

可设定的带颜色LED的高/低设置点

存储功能

1000个数据量值

显示翻转功能

测量值和单位

报 警

超负荷和+NG(开/关 可以选择的)

其他功能

自动清零(1.0-25.5秒设置)

阻尼模式(7个水平设置)

自动关机功能

5,10,30,60分钟和关闭可选择

外部连接开关

显示保持,清零,以及峰值/追踪选择

配 件

6+2个附件

AC适配器

携带式仪器箱

使用手册

USB连线(选配)

CD-ROM驱动程序(选配)

尺 寸

长度220.5×宽度78×高度32.3mm

重 量

大约520g
规格:
| | | | |
| --- | --- | --- | --- |
| 内置传感器类型 | 量程 | 显示值 | 分辨率 |
| Z2-2N | 2N(200.0gf) | 2.000N(200.0gf) | 0.001N(0.1gf) |
| Z2-5N | 5N(500.0gf) | 5.000N (500.0gf) | 0.001N(0.1gf) |
| Z2-10N | 10N(1.000Kgf) | 10.00N(1.000Kgf) | 0.01N(0.001Kgf) |
| Z2-20N | 20N(2.000Kgf) | 20.00N (2.000Kgf) | 0.01N(0.001Kgf) |
| Z2-50N | 50N(5.000Kgf) | 50.00N (5.000Kgf) | 0.01N(0.001Kgf) |
| Z2-100N | 100N (10.00 Kgf) | 100.0N (10.00 Kgf) | 0.1N (0.01Kgf) |
| Z2-200N | 200N (20.00 Kgf) | 200.0N (20.00 Kgf) | 0.1N (0.01Kgf) |
| Z2-500N | 500N (50.00 Kgf) | 500.0N (50.00 Kgf) | 0.1N (0.01Kgf) |
| Z2-1000N | 1000N (100.0 Kgf) | 1000N (100.0 Kgf) | 1N (0.1kgf) |
外观尺寸: