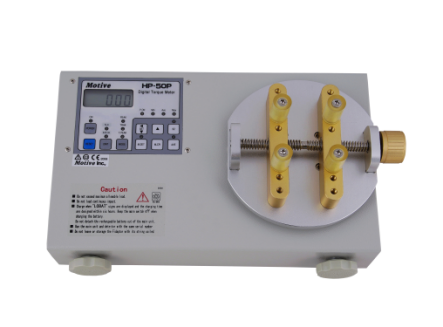 主机Ⅰ (铝合金圆盘夹具)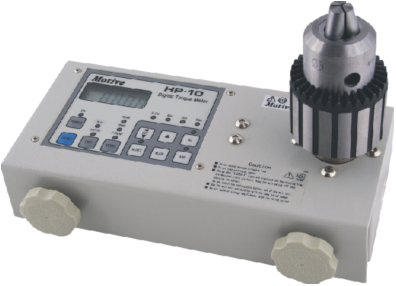 Host II (three-jaw clamp)
Product Usage:
The Cap Torque Tester is a special cap measuring instrument developed on the basis of the HP series of intelligent torque measuring instruments.
Replace the HP series of intelligent torque meters with the caps of the HP series for measuring the mechanical parts and accessories of the auto-stop electric, pneumatic tools. By leveraging the power of the HP Series computer, accurate measurement and system analysis of cap torque can be made.
Instructions:
Before starting the measurement, you are familiar with the HP computer part of the operation.
1. The instrument is placed on the table smoothly during the measurement.
2. In the TRACK state, turn the large nut on the right side of the instrument, adjust the appropriate width, loosen the test rubber clamp with a wrench, and adjust it to the proper position so that it just clamps the measured object.
3. Select the appropriate measurement method (TRACK∕PEAK∕EPEAK).
4. After the measurement operation is completed, turn off the power and remove the add-on or substitute from the fixture.
Technical Parameters:
型号

HP-10P

HP-50P

HP-100P

峰值时测量范围

N.m

0.015-1.000

0.15-5.00

0.15-.10.00




Lbf.in

0.15-9.00

1.5-45.0

1.5-90.0

Kgf.cm

0.15-10.00

1.5-50.0

1.5-100.0

充满电连续使用时间

16小时(充电时间在6小时以内)

电池寿命

约可充电500次

专用充电器

输入电压:AC100V-240V 50/60Hz 输出电压:DC7.3V-8V 0.5A

体积(毫米)

325×200×65

重量

约12Kg

铝合金圆盘夹具

15-150mm

三爪夹具

1-16 mm
Precautions:
1. Read the instructions carefully before using this product.
2. This product is only used for measurement.
3. Avoid misuse or rude treatment.
4. Do not disassemble or damage this product.