use:
Pursuit of a large number of configurations at the spring manufacturing site, low price, miniaturization, no need to move to the laboratory for testing can save time and improve production efficiency. Because in the field test, it can be finely managed to prevent the production of defective products. High-performance amplifiers, high-precision load cells, servo motors, ball screws, and linear slides ensure high performance and high precision.
2. Compression spring test and tension spring test The design used in one direction reduces the cost. 3. The whole model is applicable to the first-class standard of JISB7738 "coil spring compression tensile testing machine". It can memorize the test conditions when registering the product. Specifications and tolerances, etc., can be tested immediately when the product is called.
5, can easily do 1, 2, 3 load, spring constant, free length, initial tension (stretch), tight length (compression) test.
6. From the screen display switching, the graphic display, the qualified range, and the good or bad judgment can be judged by visual and sound.
7. The method of inputting tolerances by using the % and % keys is automatically calculated. It is easy to set the upper and lower limits. 8. It can be switched to Japanese, English, Chinese, Simplified and Traditional Chinese and Korean, and the test is easy for overseas users. machine.
9. The power supply voltage uses 100~240V to automatically switch the power supply without selecting the place of use.
10, continue the most advanced spring testing machine PRO series proprietary technology, easy to operate, high performance testing machine
11. Because the PC software for the PRO series can be used, the test data accumulated so far can be used.
12. The standard report with the load inspection report, length inspection report, retrospective report, etc.
13, using QC monitoring (optional software) can display X-R management map, histogram, can be centrally managed in the office
Technical Parameters: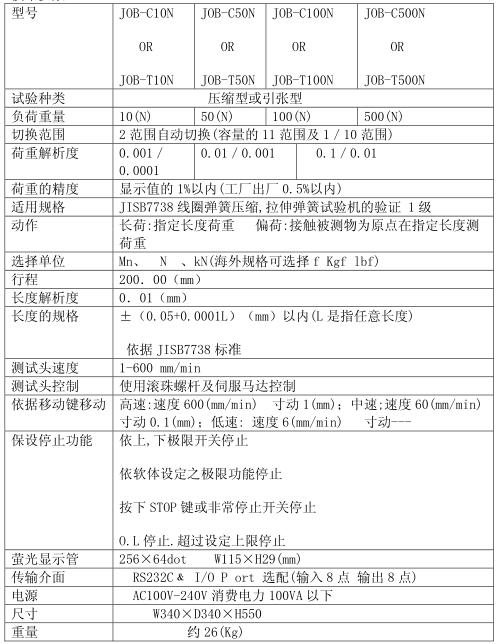 Precautions:
1. Read the instructions carefully before using this product.
2. This product is only used for measurement.
3. Avoid misuse or rude treatment.
4. Do not disassemble or damage this product.